NW-A50 SERIES
Sony A50 Walkman® A Series
High-Resolution Audio compatible

S-Master HX™ digital amplifier for pure sound quality

DSEE HX Al analyses song type and restores compressed audio files

BLUETOOTH® technology with LDAC to preserve wireless audio quality
Sony A50 Walkman® A Series
Get Rewarded with Sony Rewards
What are Sony Rewards Points?
Sony Rewards is a free loyalty program in which you can earn 5% rewards points (order value excluding VAT). Simply log in or join now to link your Sony Rewards account to a Sony Store account. Click here to learn more
Regular price
AED 799
Sale price
AED 799
Unit price
per
Offer
Available Soon
Thanks for signing up for restock notifications!
There was an error signing up for restock notifications. Please try again.
Sign up for restock notifications
View full details
Product Highlights
Colours in harmony : The new h.ear range comes in colours to suit your lifestyle perfectly1.The tones work with a spectrum of hues and different colours. Try them with your favourite outfit and it all just works – effortless harmony.
Stylish curved design : With a premium, curved aluminium body, the NW-A50 is ergonomic to hold and fits in the palm of your hand.
High-Resolution Audio compatible : Enjoy the subtlest nuances of studio-quality sound in higher-than-CD quality with High-Resolution Audio. Passion for music unites every component from signal to speaker, so it feels like the artist is performing right in front of you.
Rigid aluminium milled frame : A rigid premium aluminium milled frame provides superior rigidity for low impedance and clear, stable sound and solid bass.
New DSEE HX AI analyses song type : Audio upscaling is improved even further by our new DSEE HX processor which intelligently recognises instrumentation and musical genres. Realism and liveliness of different instruments, including the human voice, are inherently characterised by high frequency harmonics. By identifying instruments, and the relative energy of the audio, our enhanced DSEE HX can accurately rebuild audio lost during digital compression, for a full fidelity experience even with heavily-compressed audio formats.
Specifications
Take music to the next level with the incredible fidelity of High-Resolution Audio and colours to suit your lifestyle. The NW-A50 is made with precision engineering and quality parts such as a rigid aluminium milled frame and audio-grade lead-free circuit soldering spiked with gold, for crystal clear sound. Improved DSEE HX restores compressed audio files, and you can stream over BLUETOOTH® with LDAC to preserve the detail in every track.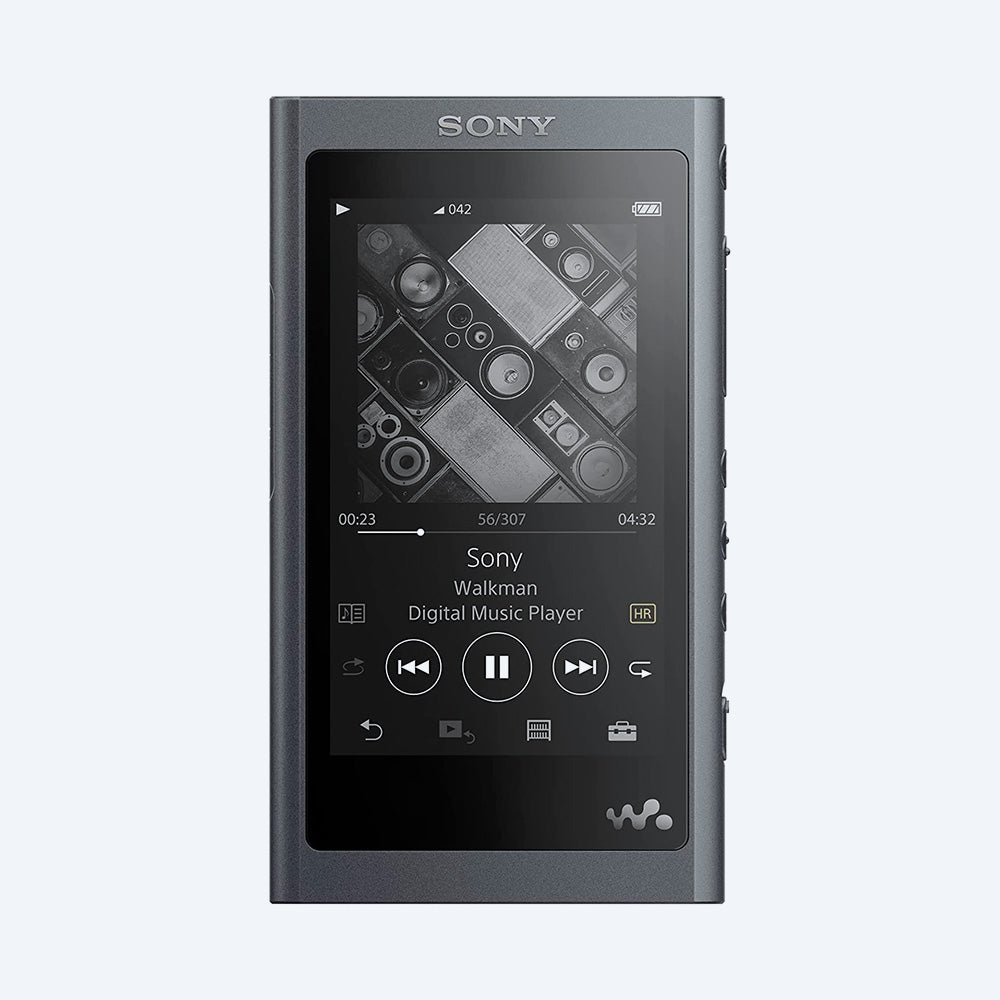 It's good, but it could be so much much better!
For me the NW-A55L Walkman has 3 pros and 6 cons, as follows:
The Pros:
1. It's so small and so light that I am not aware of it being in my pocket while I work in the garden, connected to the NW-A55L via my excellent Sony noise-cancelling bluetooth headphones.
2. Transferring files to and from the NW-A55L is much quicker than transferring files between my computer and a smartphone, tablet, or a laptop.
3. The NW-A55L's software enables smooth transition from track to track, with few jolts - as can happen when I use a music-player app on my Android devices.
The Cons:
1. Because the NW-A55L is so conveniently small, its screen, menus, and text are awfully tiny and fiddly to work with. It helps if your eyesight is excellent and your finger-tips are tiny.
2. Every time you switch on the NW-A55L it creates the database anew, which is an unnecessary step, holding things up by a minute or so before you can start listening again. The database should only be re-created after you have added one or more new tracks. But there's nothing that you can do to stop this process unless you leave the Walkman on between listening sessions, in which case you will lose battery power.
3. If you play FLAC (high-quality) sound-files the battery life is short (about five hours after a full charge), whereas playing the same FLAC files on a smartphone uses nowhere near the same amount of power.
4. Every time I power-on the NW-A55L I have to dig deep into the settings to reconnect the Walkman to my bluetooth headphones, when instead there should be an icon on the first screen of the NW-A55L to enable re-connection, as on a smartphone (where you just press the bluetooth icon).
5. Creating playlists on the tiny screen of the NW-A55L is fiddly and difficult. You can't select a large number of tracks from different folders and add them all to a playlist at the same time. It seems the best way of creating playlists for the NW-A55L is to keep copies of all your sound-files on a computer and use "Sony Music Centre for PC" to create the lists, and then transfer both the lists and the sound-files to the Walkman. (I have not been able to organise the tracks which are already on my Walkman via "Sony Music Centre for PC" and my only option is to transfer all 5,000 tracks back to my computer - just to be able to quickly and efficiently organise them into playlists!)
6. A playlist on the NW-A55L can only consist of a maximum of 999 sound-files, whereas I have playlists on a music-player app on my Android device which have about 2,300 sound-files in each of them.
Choosing a selection results in a full page refresh.